Team

Melissa Haile, Founder, Light Worker and Massage Therapist


Melissa had the great fortune of being raised by a family of healers. In the 70's, her grandmother (a talented Iridologist) along with Ruth Sackman, co-founded a Non-Profit Cancer Therapy Organization called Foundations for The Advancement of Cancer Therapies (FACT). A documentary was filmed and a book was published based on FACT. Inspired by this remarkable community of healers, Melissa set her sights on becoming a Healing Arts Practitioner.

For over 20 years, Melissa has been a Licensed Massage Therapist and a Practitioner of Asian Bodywork Therapy. Additionally, She is a 500-Hour Certified Vinyasa Yoga Teacher and a Doula, proudly trained by Debra Pascali Bonaro. For five years, she was a Professor of Massage Therapy in New York City. There, she trained massage professionals in: Shiatsu, Swedish and Myofascial Therapy. Melissa is one of very few Colorado healers part of the Certified Practitioners of the American Organization of Asian Bodywork Therapy (AOBTA-CP). As an Asian Bodywork Therapist with over 500 hours of Traditional Chinese Medicine, Melissa offers Amma Therapy, Nutritional recommendations and Herbal recommendations. In 2014, Melissa visited Chengdu, China, for specialized training on Traditional Chinese Medicine. These practices are particularly useful for women when it comes to issues of Fertility, Prenatal and Postpartum healing.

After living a lifetime in NY, in 2019 Melissa moved with her husband Sean and their now two year old daughter, Skylah, to Denver.

Jen Henderson, Massage Therapist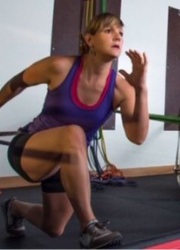 With a background in Athletic Training, Jen found her passion for healing and wellness while working in Chiropractic and Physical Therapy offices as an assistant. In 2010, Jen graduated from the Rocky Mountain Institute of Yoga and Ayurveda. She received her Massage Therapy License from Colorado School of Healing Arts in 2018. She continues her work as a Fitness Instructor, even working with professional athletes. When Jen is not working, she enjoys spending time with her son, hiking, camping, snowboarding, volunteering, and practicing yoga.
Jen is a Natural Sports Massage Therapist with an impressive range of specialties including Thai yoga Massage, Prenatal, Myofascial Release, Deep Tissue, and Swedish Massage. Additional techniques include Gua Sha, Reiki, Lomi-Lomi and Cupping.

We're always considering applicants from qualified Licensed Massage Therapists.